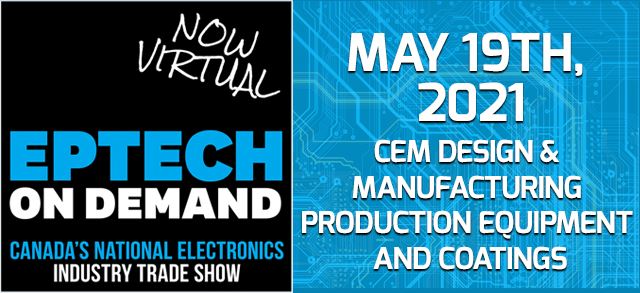 Eptech on Demand will take the best of the live shows – meeting with exhibitors, suppliers and industry experts, and combine that with the best online events have to offer, unique speaker sessions, live and on demand presentations and educational sessions, and product demonstration to help attendees source solutions and gain new insights, knowledge and innovation in the fast moving electronics field.
EPTECH on Demand will take place as a series of 3 hour sessions, EXTRAVAGANZA DAYS, over 4 days.
Each EXTRAVAGANZA DAY will feature two streams that are popular at EPTECH Live events.  Each stream will feature special discussions and presentations on those specific topics.
VISIT OUR BOOTH ON MAY 19TH AND BE AUTOMATICALLY ENTERED TO WIN A $250 VISA GIFT CARD!
May 19, 2021
Stream 1: CEM Design & Manufacturing
Stream 2: Production Equipment & Coatings
April 28, 2021
Stream 1: Connectors and Components, Wire, Harness and Cabling
Stream 2: Switches, Sensors and Displays
S-P International has been working with our partners on some new and exciting opportunities.  Come check out our virtual booth and see what we have been up to and how we can assist in your supply chain needs.  To visit our virtual booth click HERE
Should you need to register, click HERE instead