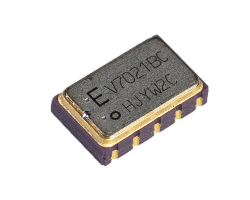 Gyro sensors, also known as angular rate sensors, are devices that sense angular velocity, the change in rotational angle per unit of time.  Angular velocity is generally expressed in deg/s (degrees per second).
Gyro sensors come in a variety of types based on size and performance.  In recent years vibration gyro sensors have found their way into a variety of applications including camera-shake detection systems for compact video and still cameras, motion sensing for video games, and vehicle electronic stability control (anti-skid) system.
Vibration Gyro Sensors
Vibration gyro sensors sense angular velocity from the Coriolis force applied to a vibrating element. For this reason, the accuracy with which angular velocity is measured differs significantly depending on element material and structural differences. 
Demand for vibration gyros is expected to grow in areas such as vehicle driver safety and support systems, and in robot motion control.
Types of Elements Used in Vibration Gyro Sensors:
Vibration gyro sensor manufacturers are using a variety of materials (such as crystal, ceramic, and silicon) and structures in an effort to devise compact, high-accuracy gyro sensors that have good characteristics, including:
scale factor
temperature-frequency coefficient
compact size
shock resistance
stability
noise characteristics
Gyro Sensor Applications
Angular Velocity Sensing – senses the amount of angular velocity produced
Angle Sensing – senses angular velocity produced by the sensor's own movement
Control Mechanisms – senses vibration produced by external factors
                           Examples of angular velocity in applications:
Car navigation systems: ~10 deg/s
Vehicle control: ~30 deg/s
Camera-shake correction: ~100 deg/s
Game controllers: ~300 deg/s
Sensing the swing of golf's top players: ~3,000 deg/s
Sample Applications
Cellular
Robot Balance Control
Digital Cameras
Car Navigation
Sports Sensors
Mobile Games
Radio-Controlled Helicopters
SLR Cameras