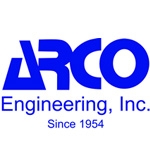 ARCO Engineering, Inc. is a distributor of Pressure, Temperature and Liquid Level instruments, instrument valves, heat trace, comfort heaters, and safety relief valves.  We specialize in products for the natural gas, process, chemical, power, wastewater and OEM markets.
Founded in Louisville, Kentucky in 1954 by two partners, Mr. George Andriot and Mr. Bill Riester, ARCO Engineering became one of the first master distributors set up in the United States for AMETEK/U.S.Gauge and Mansfield & Green Divisions, United Electric Controls Co., and others.
Over the years ARCO has expanded both in products sold and services offered to include a variety of industrial markets.
Website: www.arcoengineering.com